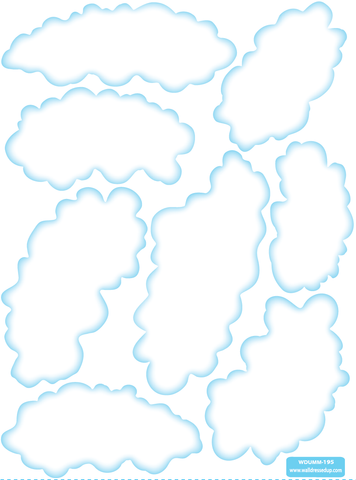 Eight Small Fluffy Could Wall Decals, Removable and Reusable Fabric Wall Stickers
$ 34.00
Brand Wall Dressed Up
8 fluffy cloud adhesive fabric wall decals. These decals are removable and reusable so you can arrange and rearrange as often as you like. They are sized relatively small, perfect add on for our towns and transportation decals. There are 8 clouds ranging in size from 4.5 to 5.5"H to 7.5"-12.5"W.
The sheet is 18" x 24", to give you an idea of size!
FREE SHIPPING IN US over $30. Buy more than one and get Free Shipping.
These clouds are a great addition to:
Our blue hot air balloon designs
Our primary color hot air balloons
Our pink, purple multicolor hot air balloons
Our girls dollhouse town
Blue Town Wall Decals
Our transportation town with airplanes and helicopters
* Great for kids rooms!
* Our decals are non toxic and PVC free (not vinyl)
* Printed with eco friendly, water based, odorless ink
* Premium, self adhesive, matte wall decal material
* Removable, reusable and repositionable material. Leaves no residue
* Peel and stick
* High resolution artwork
* No Bubbles, no damage to your walls!
* Artwork right to the edge (no clear film edge)
* Designed and Printed in the US